Players
If you wish to support the Waffling Taylors, and the other shows in the network, you can over at Ko-fi.com/jayandjaymedia. However, supporting us is completely voluntary and not required at all.
Another way to support us is to shout out about us on social media or give us a rating on your podcatcher service of choice. The more people who listen to the show, the more shows we can do.
Show Notes
Squidge decided to start this part of the episode with a (not so subtle) shot at Chief:
And you thought Chief Problems can do tangets. He aint go nothing on Matthew Bliss from the Dead Drop News podcast

Anyway, with that being said: sit back, grab some snacks, and get ready for the conclusion of the chat we had with Matthew Bliss in this episode that we entitled "The Lethality of Tangents - Part Two"
I Am Rich
Towards the end of the previous episode, Jay brought up the I Am Rich game for iOS
it was the first famous iOS app in that it cost half a million dollars to buy, and would just display the legend "I am rich" when you opened it.
This reminded Matt of a story that he almost put in the (then) most recent episode of the Dead Drop News podcast - we recorded this episode on Feb 10th, 2023 - about a developer who decided to release their game to Steam and charge the maximum that Steam would allow. At the time of it's release The Hidden And The Unknown had the hefty price tag of $2000, but this wasn't the game that Matt was talking about.
Recent Games
The previous episode ended part way through the Recent Games section, so here's a quick round up of that section.
The Recent Games segment will not be new to listeners, but in case you're new to the show here's how it goes: we go round the table and discuss one or more game that we've been playing recently, and whether we think it's worth the listeners checking it out. We continue to do this until we've run out of games to discuss.
And this episode was no different.
Matts's Recent Games
Doki Doki Literature Club!
Hi-Fi Rush
And Matt had this to say about Hi-Fi Rush and similarly "badly timed" released of amazing games:
It seems like many developers poorly time the release of their games if they're awesome, because Tunic had the very same kind of drop at the start of last year, being 2022; where it was such an awesome game, dropped in January [or] February, and everyone forgot about it.

And I think Hi-Fi Rush is this year's Tunic, where it's not about mystery, it's not about bringing people in, it's just about rhythm based combat. But they've built it the right way, where it's very difficult to fail. And hitting the notes is incredibly exciting. And the music and all the stuff built together, it's really interesting, even the graphics. It's a really well built game. Fairly short though. Probably 15 to 20 hours, I'd say.
God of War Ragnarök
Immortality
Squidge's Recent Games
GoldenEye 007
Operation: WinBack
Phantasy Start Portable
And finally, Jay's choices
Jay's recent Games
But before discussion could turn to Jay's recent games, there was a conversation of the Apple Magic Mouse 2's charging port and Apple's standard marketing strategy. Here is a shot of the Magic Mouse 2, plugged in and charging.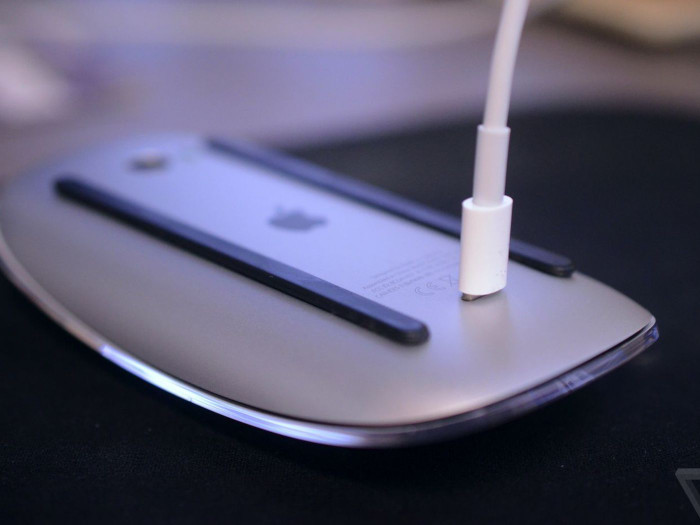 Final Fantasy: Mystic Quest
Road Redemption
The Thunder Plain Games
For those who are new to the pod, we have a section called "Thunder Plain Games" which might be vaguely reminiscent of a certain programme on BBC Radio 4
but for copyright reasons, it is completely different
Imagine that you are in Final Fantasy X, and the Thunder Plains is a place that you get banished to. And what we're going to do is we're going to open a portal to the Thunder Plains and, very nicely and politely, boot you through it. You will get help, maybe it will be tomorrow, maybe it will be in a week, maybe it will be in an hour.
To stop you from getting bored, we've said that we'll keep the portal open and we'll throw through up to three video games and everything you need to play them - including an Internet connection. The only rules are that you can't ask for help, because help is on the way, and you can't tell anyone that you're in the Thunder Plains.
So our question is: were we to do throw, boot, or yeet you through the portal, which games are we throwing through with you?
Matt's Choices
Final Fantasy X
Hades
God of War (2018)
Need For Speed: Most Wanted - Black Edition
Tenchu Z
External Links of Interest
Music
Links to the music used in the podcast can be found below. Definitely check them out, because they're amazing tracks by awesome musicians.

All copyrighted material contained within this podcast is the property of their respective rights owners. Please see the above list for copyright details pertaining to music used.
Games Covered
We mentioned 26 games in this podcast. In the following order, those games where: