Waffling Taylors Goes To The Movies
Don't forget to check out the other episodes in the series. Make sure to click here to see which movies we've already covered - we're sure that you'll love what you have to say.
Featured Image
We'd like to thank the amazing yurricanes for working with us to create the featured image for this episode. I think you'll agree that it's an amazing piece of art, and you should definitely check out their work
Players
If you wish to support the Waffling Taylors, and the other shows in the network, you can over at Ko-fi.com/jayandjaymedia. However, supporting us is completely voluntary and not required at all.
Another way to support us is to shout out about us on social media or give us a rating on your podcatcher service of choice. The more people who listen to the show, the more shows we can do.
Content Warning
As this is both our Spootober episode and an episode which covers the 2005 action horror movie Doom, this episode contains discussions of things, and words, which are not safe for work or the ears of the innocent.
Please listen responsibly.
Show Notes
Spooptober is upon us once again. This year we wanted to tackle a spoopy video game movie for our Waffling Taylors Goes To The Movies series. But what to choose, what to choose? We've already covered The House of the Dead, and the first two Resident Evil movies
psst. there are three links there for the Resident Evil movies, because our exploration of the second movie took that long that we split it into two parts
because of that, we decided to cover the 2005 action horror movie version of Doom!
As with our House of the Dead episode
do check that out, if you want to hear the boys talking smack about an Uwe Boll movie
we decided to change up the format of our "goes to the movies" episodes. Instead of working through the plot, we decided that it would be much more fun to focus on a handful of scenes from the movie. This serves the double purpose of:
Simplifying our episodes, and getting to the gags quicker
Not having to discuss the plot - the one thing we're not here for
Basic Info on the Movie
Jay dropped some key facts on this movie before we could get to our discussion on it:
This is a movie that was released in 2005.

It had a budget of 60-70 million dollars, but only took 58 million dollars at the box office. So it was kind of a flop, but not as much as Final Fantasy: The Sprits Within.

Although it's based on Doom, I feel like it's more based on Doom 3 due to the design of the BFG and the dark corridors.

…
Initial Thoughts
Squidge started the conversation off with a very relevant question:
But why did they make Doom into a stealth movie?
And he's not wrong, a large part of the first hour of the movie is mostly the Marines stalking about in the darkness.
This is just Doom, but set in the Red Dwarf universe
… another thing that everyone agreed with, too.
Then Jay dropped the ultimate piece of trivia for this movie:
Apparently, Rosamund Pike turned down the role of Rita Skeeter in Harry Potter and the Goblet of Fire to be in this movie
Was that a misstep? Well, Lulu thought so:
Fool! She would have been fantastic as Rita Skeeter
And the big twist
if you want to call it that
that "The Rock" didn't play the good guy in the movie was a breath of fresh air.
They actually hint at it early on in the movie, too. So if you're not just turning your brain off and watching along, there are hints to pick up on.
And thank goodness that ol' Rocky Maivia had started taking acting lessons after this movie, otherwise he may not have made it in Hollywood
He was doing a lot of "smell the fart acting", too
Then again, there are a lot of bad actors who are incredibly highly paid by Hollywood.
The Scenes We Want To Highlight
Lulu's description for her chosen scene was amazing:
Kissing guns is macho; macho gun pointing is macho
And it's easy to see why she described it like that: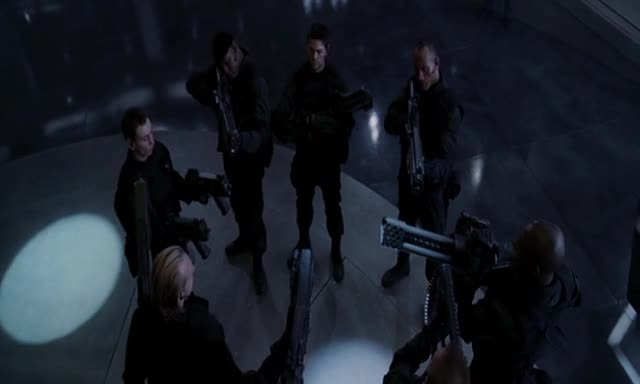 and half a second later: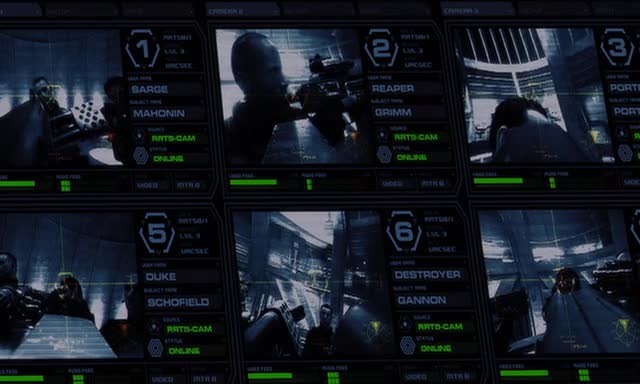 And a question raised about a certain scene when the Marines first enter the lab complex and are checking the air content:
Would that scene have been better with Buzz Lightyear doing his "I can't breathe" bit from Toy Story?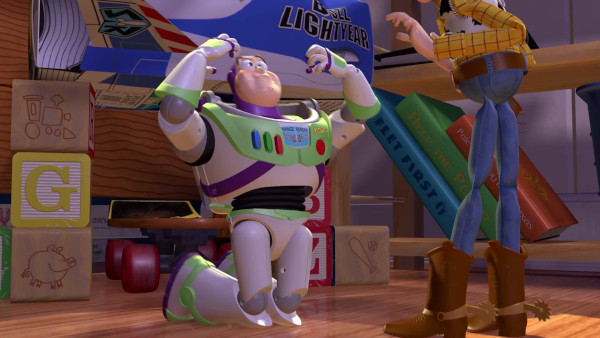 let us know on our Discord server
As far as the hosts were concerned, it would have been a much better scene with Buzz struggling for air for no reason. Gotta love that scenery chewing.
And now discussion of this movie would be complete without talking about the first-person shooter scene. If you've never seen it, we mean this scene:
Seriously, how fantastic was this scene. Ok, it was mostly men in rubber suits jumping out at the "player", one at a time. But it has the feeling of the Doom titles, for sure. And in the words of RazörFist (aka The Ragaholic), it quite literally was:
Shooting. Demons. On Mars. While heavy metal blares over top.
A scene which takes place entirely in the first-person and has "Reaper" make his way through the labs, taking on zombies, demons, and a newly turned Pinkie on his search for his sister. This whole thing is just shy of 5 minutes of what it's like to play a Doom game.
Someone deserved a high five and a raise for that [scene]
And the "big fat tacos" song that Lulu is referring to is:
you're welcome
How Would We Rate It?
We don't usually rate games or movies, in fact we have never done that. And this was a conscious decision that we made early in the life of the site.
But we needed to figure out a way to tell you all whether we think you should watch this movie or not. Normally we would rely on three ratings across three categories, which are:
Love it (best)
Try it
Fling it into a tree (worst)
Across these categories:
As an action horror movie
As a video game movie
As a Doom movie in the Doom canon
Squidge's Ratings
| Category | Rating |
| --- | --- |
| As a video game move | Love it |
| As an action horror movie | Love it |
| As a Doom movie in the Doom canon | Fling it into a tree |
Lulu's Ratings
| Category | Rating |
| --- | --- |
| As a video game move | Love it |
| As an action horror movie | Love it |
| As a Doom movie in the Doom canon | Try it |
Jay's Ratings
| Category | Rating |
| --- | --- |
| As a video game move | Love it |
| As an action horror movie | Try it |
| As a Doom movie in the Doom canon | Try it |
External Links of Interest
Music
Links to the music used in the podcast can be found below. Definitely check them out, because they're amazing tracks by awesome musicians.

All copyrighted material contained within this podcast is the property of their respective rights owners. Please see the above list for copyright details pertaining to music used.
Games Covered
We mentioned 9 games in this podcast. In the following order, those games where: