Players
If you wish to support the Waffling Taylors, and the other shows in the network, you can over at Ko-fi.com/jayandjaymedia. However, supporting us is completely voluntary and not required at all.
Another way to support us is to shout out about us on social media or give us a rating on your podcatcher service of choice. The more people who listen to the show, the more shows we can do.
Content Warning
We start with an immediate (censored) swear, which really sets the tone for this episode:
Stick that sh*t on the calendar
Please listen responsibly
Show Notes
Even though he tried his hardest to stop Squidgey from burping into the microphone, Jay was completely unable to. So we apologise for that.
Casually Meta Podcast
We were joined by CJ of the [asually Meta Podcast- eagle eye'd listeners will have noticed the guest appearance we made on CJ's podcast a few days prior to this one going out
here's a link to that episode
Our appearance on CJ's show was centred almost exclusively around Pokémon - which is also a topic we covered recently on the show, in an episode with The B.
And before we got onto the episode proper, we asked CJ to describe his show to you all:
The premise is that I've been sucked into a virtual world and that I'm aboard a pirate ship called The Casually Meta. And the sea captain, Captain Seven-Sea Savy, uses an inter-dimensional transporter to pop me into different video game worlds and has me take people hostage and bring them aboard to interview them for arbitrary information which hold no actual relevance to the ship itself, but is just about video games.
CJ also points out that the captain in his show is an homage to Anne Bonny, a real pirate who struck fear into the Caribbean; and not just because she was a fearless female pirate. And, of source, talk of pirates lead to talking like a pirate, which reminded Jay of this golden oldie from Loading Ready Run:
Also, this happened:
So what you're saying is that Blackbeard was a pro-wrestler
Recent Games
The Recent Games segment will not be new to listeners, but in case you're new to the show here's how it goes: we go round the table and discuss one or more games that we've been playing recently, and whether we think it's worth the listeners checking it out. We continue to do this until we've run out of games to discuss.
I love to hear what everyone's been playing, and whether they would recommend it.
CJ's Recent Games
Although the sheer amount of time required to raise the Gigas is currently holding CJ back from playing it - which reminds us of how much real-world time is required in order to get your character trained up for EVE Online.
Call of Duty: Black Ops Cold War
And CJ has been staying away from that game too, because of the entire Blizzard/Activision
and several other companies
thing
But there are too many hackers involved in that game
plus the Blizzard/Activision stuff
Squidge's Recent Games
I booted it up, and that's where my problems started
And this sparked a conversation about the recent
at the time of recording
news that the first two Kingdom Hearts games are coming to the Nintendo Switch as cloud based games. As in, "you need to be connected to the server where the game is running in order to play the game" based.
… which is bonkers. Especially for a console which is meant to be mobile, with games played on the move.
It was also CLEARLY only OKd because Nintendo wanted to put Sora - the hero from Kingdom Hearts - into Super Smash Bros. Ultimate. Which was the very last chance we had for a Surprise Waluigi, and we were screwed out it completely.
What they should have done is that they should have said - for that final character reveal - "Hey, it's Rick Astley!" That's what they should have done.
Jay's Recent Games
Which is a wonderful mishmash of the best of Halo, Unreal Tournament, and Portal. If that previous sentence is lighting up the gaming pleasure centre of your brain, tell them that Jay of the Waffling Taylors sent you.
Jay had finally gotten around to playing the FF VII remake. He has made it to the plate fall
wasn't that a song by Adele?
rescuing Wedge, and rebuilding Sector VII. But had to take a bit of a break from the feels.
---
We've discussed this title at length on the show already. Here are each of the episodes where Squidge and Lulu have talked about the FFVII remake, in the order that we'd recommend listening to them:
That's almost 6 hours of us talking about the remake so far. And that's before Jay has had a chance to talk about it.
Expect a revisit very soon.
---
The Thunder Plain Games
For those who are new to the pod, we have a section called "Thunder Plain Games" which might be vaguely reminiscent of a certain programme on BBC Radio 4
but for copyright reasons, it is completely different
Imagine that you are in Final Fantasy X, and the Thunder Plains is a place that you get banished to. And what we're going to do is we're going to open a portal to the Thunder Plains and, very nicely and politely, boot you through it. You will get help, maybe it will be tomorrow, maybe it will be in a week, maybe it will be in an hour.
To stop you from getting bored, we've said that we'll keep the portal open and we'll throw through up to three video games and everything you need to play them - including an Internet connection. The only rules are that you can't ask for help, because help is on the way, and you can't tell anyone that you're in the Thunder Plains.
So our question is: were we to do throw, boot, or yeet you through the portal, which games are we throwing through with you?
CJ's Choices
Wasting almost no time, CJ hit us with his choices almost before Jay had finished explaining the rules. Those choices were:
Apex Legends
Pokémon Unite
Rust
---
For folks who want to know, we've yeeted ourselves through the portal too, and our choices were:
Jay's Choices
Peggle
Streets of Rage 2
Shadow Man Remastered
Squidge's Choices
Dark Chronicle
Resident Evil Gaiden
Get Control of Yourself
This is a segment that we like to do every so often, which is based on a tweet from SinceSpacies - who is an absolutely amazing person, by the way. Seriously, go follow him on Twitter
Due to the recent changes at Twitter, we are unable to embed tweets at this time. We apologise for the inconvenience.
The idea here is that we want to know which is the best and which is the worst controller of all time.
CJ's Best Controller
Similarly to when we asked Maz this question back in episode 121
CJ's favourite controller was for the original Xbox. But unlike Maz, his was not the Duke controller. CJ's favourite was this controller from MadCatz: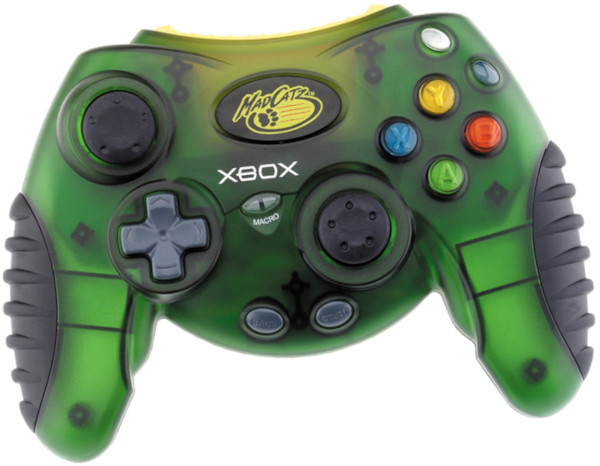 CJ's Worst Controller
CJ chose the Duke controller for the Xbox.
You needed a passport to get from one side of that controller to the other
And, to be fair to CJ, he's not wrong.
If you've ever seen a Nintendo Switch, or someone's head…
Here's a shot of Squidge's recreation Duke controller from Hyperkin next to his Nintendo Switch: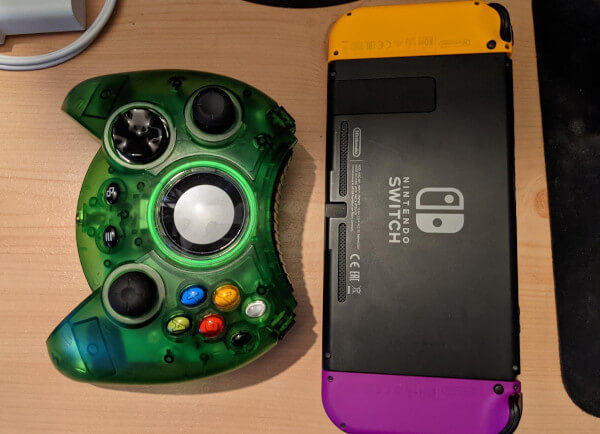 Great for slow burning games like Fallout, but titles like Battletoads (2020) require a much smaller controller.
Borderlands Talk
My main problem with the Borderlands games is the same problem I have with the Kingdom Hearts games: there's about 12-ty bajillion of them
And Jay isn't wrong.
Only two of them are worth playing
And now there's a movie in production, too.
Jay wanted to asked the important questions:
Which was the first Borderlands game you played?
Where should players start?
What do you all think about the Borderlands movie?
Who are each of our top three characters?
Famous Firsts
Where did y'all enter into the series?
CJ started his Borderlands journey with the beta key for PC, and it left a sour taste in his mouth
I refused to buy Borderlands 2 until after it had been out for seven years
Squidge started on the same game (the first) but on the Xbox 360; he also played the same character throughout the game series, too: Lilith.
Not to break the streak, Jay started with the first game too. But he was unimpressed with the ending for the first game
spoiler alert: the game yeets you back to the start
And The Zombie Island of Dr. Ned was the best piece of DLC for the first game.
For me, it was a forgettable shooter with RPG elements
It was always better with multiplayer
And we all agree that the best character in Borderlands 2 was Tiny Tina, with Ellie being a close second.
If you had any motivation to do a mission, it's that: "because crumpets are crunk"
I say.
Where Should New Players Start?
Both Squidge and CJ agree that the best place for new players to start with Borderlands is the second game: Borderlands 2.
It gives you a brief overview of what happened in the first one, and it's like three sentences
And those sentences are:
They opened the vault; they found another one
Talk about a tl;dp
too long; didn't play
Favourite Characters
This was a tough question for all involved, and we all took some time to really think about our answers
the silence whilst we thought about our answers was removed in the edit
CJ answered first:
Claptrap
Vaughn
Scooter
Tiny Tina
Vaughn here is the guy who runs around in his underpants yelling out "BLOOD FEUD!"
Squidge was next:
Ellie
Moze
Ava
Lorelei
Squidge thought that Lorelei was called Zoe.
Jay was up last, but only had the one character who wasn't mentioned by CJ or Squidge:
Torque
And we all agree that Mad Moxxi is one of the most three dimensional, well written yet enigmatic characters in the game series.
External Links of Interest
Music
Links to the music used in the podcast can be found below. Definitely check them out, because they're amazing tracks by awesome musicians.
Intro music is Among The Stars, from the Cosmos Music Pack by Muz Station Productions
Spoiler Break music is Spectrum (Subdiffusion Mix) by Foniqz (BandCamp)
Pallet Cleanser music is Breath Deep Breath Clear (Wu Chi) by Siobhan Dakay
Thunder Plains - FFX OST © Square-Enix
Various clips from the Borderlands series
Outro Music is I N e e d Y o u 私の側て by G.H (removed from BandCamp)
All copyrighted material contained within this podcast is the property of their respective rights owners. Please see the above list for copyright details pertaining to music used.
Games Covered
We mentioned 43 games in this podcast. In the following order, those games where: