Players
If you wish to support the Waffling Taylors, and the other shows in the network, you can over at Ko-fi.com/jayandjaymedia. However, supporting us is completely voluntary and not required at all.
Another way to support us is to shout out about us on social media or give us a rating on your podcatcher service of choice. The more people who listen to the show, the more shows we can do.
Show Notes
We were joined by Jane Whittaker for this episode. Some folks will know Jane by another name: Andy Whittaker. Jane had previously identified as Andy, but has left that name behind them. We didn't see that change in identity as relevant to our conversation, so we didn't bring it up.
Why did we want to talk to Jane? Well, it's because they were part of the development team behind the Atari Jaguar's killer app: Alien vs Predator.
which Jay has written about before
We'd asked Jane to come into this interview focusing on AvP and to bring a little silliness. And Jane did just that.
---
Side note: Jane and MobyGames.
For those who don't know, MobyGames is a great resource for learning about who was behind some of your favourite titles, and it works a little like IMDB. As Jane has changed the way they identify, sites like Moby Games need a little time to update - as they aren't automated services.
---
Recent Games
As we do with all of our guests, we'd asked Jane to share with us what they had been playing recently
You've got to play games to make games
And, of course, we shared ours too. Would we recommend the games that we've all been playing? Or course!
Jane's Recent Games
Which is another great example of a wonderful game created by a small team - just like Minecraft and Super Meat Boy. It also lead to a short discussion on our episode with Philip Oliver
of The Oliver Twins
which was released a few weeks prior to this episode
as they had also worked in the 8-bit era of video games development, and Philip talked about a one month turn around time. That was a turnaround time for a full game, however, and Jane had mentioned creating conversions
these days, we'd call that a port
in a week.
Squidge's Recent Games
Squidge had picked this title up on the day that we recorded with Jane, so he didn't have a huge amount to say about it; other than that he was enjoying it so far.
Jay's Recent Games
Whilst it's a button basher
and there's a strange side quest involving a "Toilet Goblin"
it has a wonderful anime / futurism aesthetic.
Another button basher, but this time as a pro-wrestling game. Seriously, this game is a lot of fun.
The Thunder Plain Games
For those who are new to the pod, we have a section called "Thunder Plain Games" which might be vaguely reminiscent of a certain programme on BBC Radio 4
but for copyright reasons, it is completely different
The usual rules of the Thunder Plain Games are:
You have been trapped in the Thunder Plains
You will get help, at some point in the future
Before you are sent there, you can pick a number of video games to take with you

You can have an Internet-connected game if you wish
But you cannot tell anyone that you are stuck in the Thunder Plains or ask for help
We challenge all of our guests to come up with a short list of games that they would take with them, in order to keep themselves busy whilst waiting for help to arrive.
Jane's Choices
The Elder Scrolls V: Skyrim
A Legend of Zelda title
Tempest 2000
Microsoft Flight Simulator
Train Simulator
If it brings you joy, and it makes you happy, what's the problem?
Alien vs Predator: how Jane remembers it
We remain convinced that Alien vs Predator for the Jaguar was the console's killer app.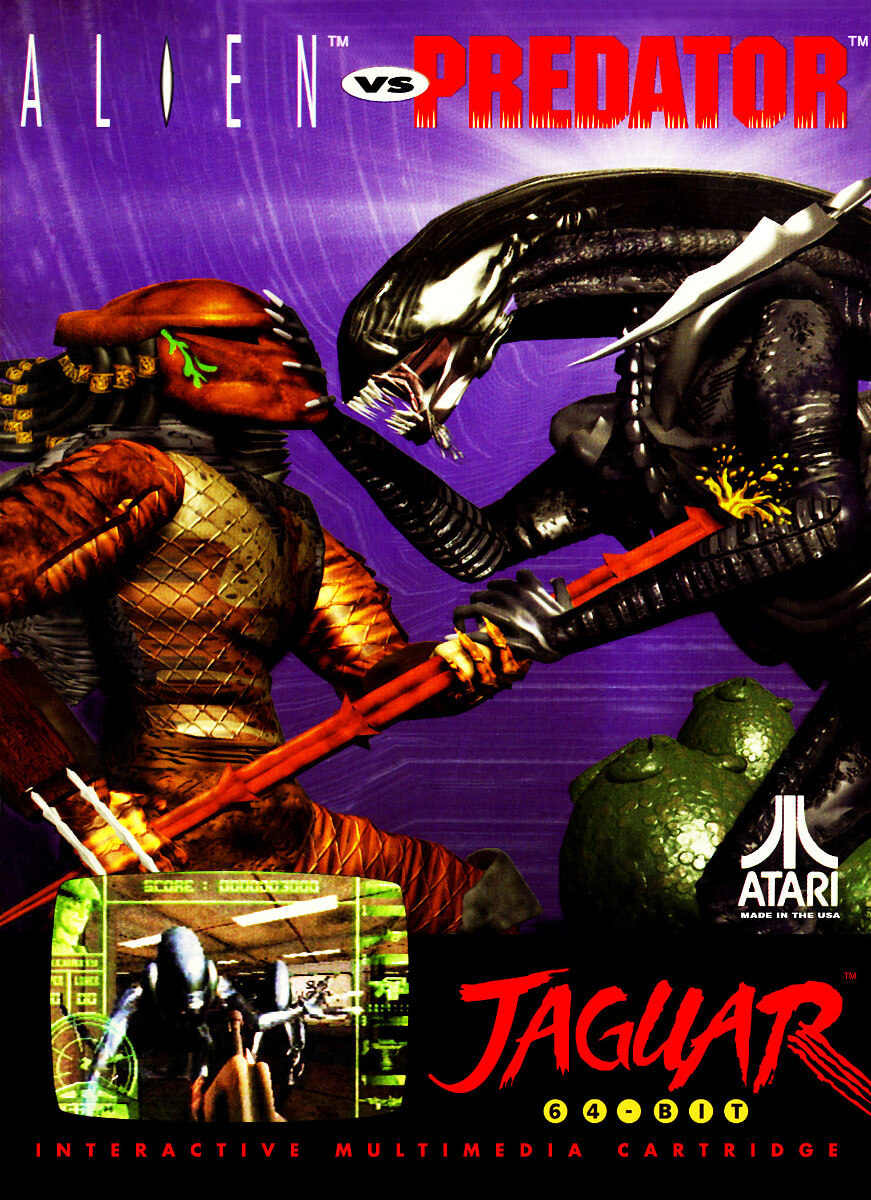 And it's not as though it was the only exceptional quality game for the format either.
Tempest 2000
Iron Soldier
Brutal Sports: Football
Cybermorph
These were all amazing titles in themselves.
Just don't mention Trevor McFur
If you have a chance to try this game out, we'd recommend it. Sourcing it, and some working hardware might prove very expensive, though.
Not only was it technically very innovative, and showed off what the Jaguar was really capable of, but it set a world record as the first video game which allowed the player to play as the bad guy. And that was a stroke of genius on the park of Purple Hampton
aka James Hampton
Based on what Jane told us, working on the code for AvP must have been a lot of fun. With Lance Lewis running around Atari's car park in full Colonial Marine gear, I can imagine that people would have thought that something was cooking at Atari headquarters.
The Jaguar controllers had a number pad, and each game had a set of overlays. The Alien vs Predator ones are simply gorgeous: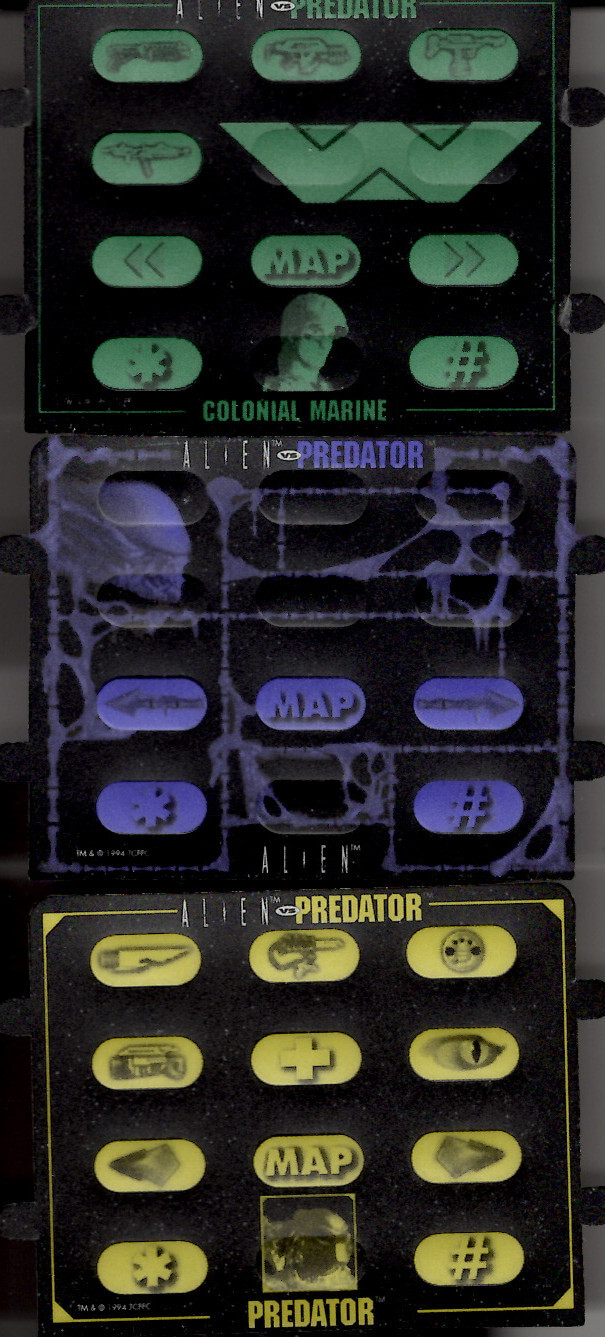 The story that Jay tells (about the first time a facehugger hit the screen when playing) is true, and he really was about seven or eight years old when it happened. And to be fair, if something like this showed up on screen very suddenly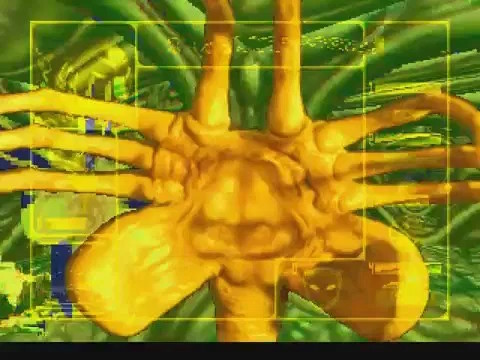 pretty much any seven year old would have leapt out of their skin.
Jay mentions a retrospective/making of video by Purple Hampton, and here it is:
Caution: the audio levels in this video are all over the place.
External Links of Interest
Music
Links to the music used in the podcast can be found below. Definitely check them out, because they're amazing tracks by awesome musicians.
Intro music is Among The Stars, from the Cosmos Music Pack by Muz Station Productions
Spoiler Break music is Spectrum (Subdiffusion Mix) by Foniqz (BandCamp)
Pallet Cleanser music is Breath Deep Breath Clear (Wu Chi) by Siobhan Dakay
Menu background music - Alien vs Predator © Atari/Disney
Thunder Plains - FFX OST © Square-Enix
Outro Music is I N e e d Y o u 私の側て by G.H (removed from BandCamp)
All copyrighted material contained within this podcast is the property of their respective rights owners. Please see the above list for copyright details pertaining to music used.
Games Covered
We mentioned 24 games in this podcast. In the following order, those games where: