Developer Interviews
This episode is part of a series of interviews with developers. Check out this page for more of them
Featured Image
The main image for this episode's show notes contains the logos for RetroMania Wrestling and RetroSoft.
Players
If you wish to support the Waffling Taylors, and the other shows in the network, you can over at Ko-fi.com/jayandjaymedia. However, supporting us is completely voluntary and not required at all.
Another way to support us is to shout out about us on social media or give us a rating on your podcatcher service of choice. The more people who listen to the show, the more shows we can do.
Content Warning
At 9:54, there's a discussion of things jiggling, and whether they needed to be censored, but we keep it clean.
Please listen responsibly.
Show Notes
We were incredibly lucky to be able to grab some time with Mike Hermann back on December 12, 2020
honestly, we really do record these ahead of time
and he agreed to be on the show again. His previous appearance was on episode 75, which dropped on April 17, 2020
Lot's of things have happened since our last chat with him. Not least of which, a whole slew of new features and wrestlers have been announced. Also,
on the day this episode drops
we're 14 days away from release. How exciting is that? Better get ready for a big pop.
Vlogs, a Release Date, and some Teases
We start things off by welcoming Mike back onto the show, and talking about the new release date; Feb 26th, 2021. We also talk about the amazing developer vlogs that Mike has been putting out, which document the development of the game
I'd recommend that you give them a watch, as you can see the game evolve in real time
We also talk about how, in development at least, showing your progress more than once a week could be a waste of time. This is usually because not enough time has gone by for you to make any progress between each report
then again, I'm not a games dev. So what do I know?
Mike then drops the knowledge that Jay & Silent Bob will be in the game. At the time we recorded this episode, we were the first to know about this' but because of the time cast pod machine wibbly wobbly-ness, we were the last to report it 😢
you heard it here last, folks
---
An episode connection
I'm going to be looking out for these from now on
happened when Mike was discussing how they got Jay & Silent Bob in the game. He mentioned Limited Run Games which one of the companies that Alex Aniel works for. Alex has been on the show, back in episode 81
Pretty cool, huh. The 6 degrees of waffle-ception, perhaps?
---
We also have a conversation on the things that you might need to submit to the ESRB, and that they're doing amazing work for developers, publishers, and consumers alike. This was brought up because of a discussion around a 2D sprite and whether there's too much "jiggling"
we were clearly talking about jell-o, right?
Recent Games
This is where we usually take some time to talk through each of the games we've recently been playing, and discuss whether we think it's worth other people picking them up. And first…
Mike's Recent Games
Mike had recently been playing some older titles
they're older titles sir, but they check out
but just because they're older titles, doesn't mean that they are in anyway inferior to more contemporary games.
Luigi's Mansion
Tetris 99
The biggest problem I have as an adult… is just not enough time to sit down and play something. And If I go back to an RPG or something, it's like "Where was I? What was I doing"
I think we all agree with that, in some capacity or other. And I really wish that most RPGs
JRPGs, classic RPGs, whatever
offered a "PREVIOUSLY ON" mode when you load a saved game. That way, you could figure out where you were, what you where doing, and just what the heck was going on.
Squidge's Recent Games
Hyrule Warriors: Age of Calamity
Squidge called this Legend of Zelda: Age of Calamity, but we know what he meant
A few graphical glitches
which we've covered in two separate episodes
and a 10 hour PROLOGUE?! If any game required a "PREVIOUSLY ON", then it should be Cyberpunk 2077. 10 hours; just for the prologue.
Jay's Recent Games
It had been a light load for me, in December. Check the other episodes that were recorded around that time to find out what other games I'd been playing.
Imagine that the made a Road Rash game in 3D which wasn't Road Rash 3D, because it was better
RetroMania Wrestling
Pro Wrestling is one of the biggest pieces of 20th century American culture. It started at the circuses and travelling carnivals of the 18th century, and has a background in Greco-Roman wrestling. And Mike has returned to the show to talk about RetroMania Wrestling, what you can expect from the game, and what might have caused the delay. For those who don't know, Retromania Wrestling is an arcade brawler, and the official sequel to WWF WrestleFest from back in the day.
I may have copied that from my planning notes
Mike starts with a wonderful history of both how RetroMania Wrestling came to be, but also about some of the wrestling titles which came out after WWF WrestleFest; with almost none of them capturing the spirit of WrestleFest.
With 15 arenas, 16 wrestlers at launch, and some free DLC post-launch, this is sounding like no slouch.
Chris Bey being the first DLC wrestler
Speaking of, let's have a look at the roster
and you'll have to indlugle me as a "mark" out
Road Warrior Animal
Austin Idol
Big Stevie Cool
Blue Meanine
Brian Myers
Chris Bey (free DLC)
Colt Cabana
Road Warrior Hawk
Hollywood NOva
Jeff Cobb
Johnny Retro

aka Johnny Nitro
aka Johnny Mundo
aka Johnny Impact
aka John Morrison

Matt Cardona
Nick Aldis
Nikita Koloff
Tommy Dreamer
Warhorse
Jack Sabre Jr
Which, I think you'll agree, is an amazing roster of wrestlers to choose from. And considering that this is an indie title, there are some huge names in there - the Road Warriors, Austin Idol, Stevie Cool, Tommy Dreamer. That's really impressive.
Rather tonge in cheek-ly, Mike said:
One might say that RetroMania is your way into a big wrestling promotion. I don't know, I'd like to say that.
One of the stars of the game is now signed to "Stanford", a few are signed to Impact, one is signed to the legendary NWA
almost everything in modern pro-wrestling comes from the NWA
no. Not that N.W.A, the other one
and several of the stars are either signed to or have been involved in AEW. So he might not be wrong 😛.
The game will also be coming to IIRcade, which is really cool. Can you imagine having an arcade cabinet in your games room, with hundreds of arcade titles ready to play?
It is a really cool connected arcade machine. It has 6 buttons on each side, it's a two player arcade (cabinet). It uses super quality components. It has 1.21 gigawatts of sound from Back to the Future. And they have their own app store.
I'm not going to lie, the custom themed cabs look amazing. The Double Dragon one is particularly kick-ass
and I don't use that phrase lightly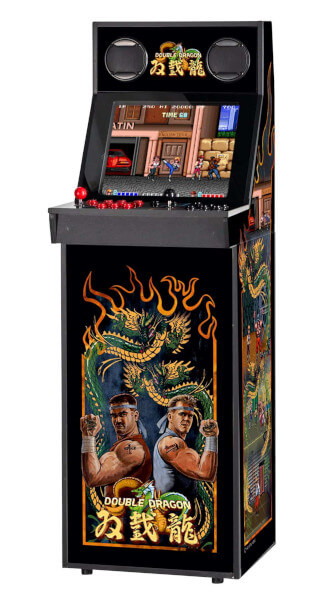 and RetroMania will be available on there, soon.
Speaking of IIRcade sent Squidge and Mike down a rabbit hole of arcade sticks, both old and new. Squidge had the 8BitDo Arcade Stick on order
when we recorded this, it has since arrived - just in time
and there was discussion of the NES Advantage and the Sega Arcade Power Stick. We're big fans or arcade sticks, and it's great to know that Mike is too. Especially since RetroMania Wrestling was initially created as an arcade game.
External Links of Interest
Music
Links to the music used in the podcast can be found below. Definitely check them out, because they're amazing tracks by awesome musicians.

All copyrighted material contained within this podcast is the property of their respective rights owners. Please see the above list for copyright details pertaining to music used.
Games Covered
We mentioned 24 games in this podcast. In the following order, those games where: