100 EPISODES
Can you Adam and Eve it? We made it to 100 episodes, and it's been an amazing journey. Thank you all for listening in and getting in touch. And here's to another 100 episodes, eh?
Players
If you wish to support the Waffling Taylors, and the other shows in the network, you can over at Ko-fi.com/jayandjaymedia. However, supporting us is completely voluntary and not required at all.
Another way to support us is to shout out about us on social media or give us a rating on your podcatcher service of choice. The more people who listen to the show, the more shows we can do.
Content Warning
Honestly, we went through this episode and produced a "clean"
i.e. bleeped
version. But the bleeps killed the flow. We're still going to list the time stamps here, but we've thrown caution to the wind and kept the un-bleeped version of the episode. Please, please, please listen responsibly.
At 2:21, Asterios says:
Ah, let's bitch about video games
At 4:37, Asterios says:
That got caught in the f*$king photocopier
At 21:47, Asterios says:
You know what? F*$k it
At 22:47, Asterios says:
It's just a f*$k… it's just
At 23:03, Asterios says:
I'm f*$king trapped here
At 24:50, Asterios says:
I'll have sex with a bat lady
At 25:01, Squidge says:
You can have sex on the back of a unicorn
At 27:10, Asterios says:
Cops are a bunch of pussies
At 29:28, Asterios says:
Platformer bull$h!t
At 35:15, Asterios says:
Part of the mechanic was that you had to keep your $h!t together
At 35:31, Jay says:
Oh, what the f*$k is this?!
At 38:20, Asterios says:
It's like, we're real f*$ked over here, boys. We're real f*$cked
Please listen responsibly.
Show Notes
As I noted in both the intro to the episode and in the Content Warning section above, please listen to this one responsibly folks.
With that said, we've reached 100 episodes! Seriously, this is an amazing achievement. And as such, I reached out to Internet comedian, podcaster, corn maze enthusiast, and occasional bee impersonator Asterios Kokkinos for comment. Strangely enough, he said that he'd love to be on the show. in fact, his email to us about it read
F*$K YES I WANT IN ON YOUR SHOW
I've censored this quote, obviously
So we had him on, as much for our own enjoyment as for yours, dear listener / reader / person / thing / corporeal entity (delete as appropriate).
In America they call me "The Corn Maze Guy"
Since some people won't know who Asterios is, I present you with "The Loudest Podcast". It's not to everyone's tastes, but I enjoy it. It's the right level of madcap insanity for me. And if you're not into TLP, then I'm convinced that you'll be into Jacked
which Asterois announced to the world on our podcast, but since we record months in advance….
which is a Cyberpunk pen-and-paper adventure podcast. If you're interested in the new Cyberpunk game and podcasts then you will be into this!
Because Asterios didn't have a huge amount of time, we decided to do a whistle-stop tour through some of our segments. So we went straight into
Recent Games
This is where we usually take some time to talk through each of the games we've recently been playing, and discuss whether we think it's worth other people picking them up. But, again, whistle-stop, so…
Asterios' Recent Games
The Legend of Zelda: Breath of the Wild
This is one of the most beautiful games that I've ever played, and I totally agree with what what was said about it. And as much fun as the quests are, I agree with Squidge:
What I always enjoy doing is surfing down a hill on my shield that broke half way down, and face-planting the rest of the way
Or as I call it "fast travel". And
I would throw a chicken at the boss, the chicken would get hurt, then the boss would be ambushed by chickens
which is genius, and forever attributed to Squidge - even though he didn't create it
That's how it works in podcasts: you hear something from someone, they are the person who created it.
Jay's Recent Games
I'd picked this up shortly before the episode was recorded
we recorded on October 18th, in case you're interested
and loved it from start to finish. It's a character driven horror story, but one without any jump scares. Then again, it does have this as a start screen: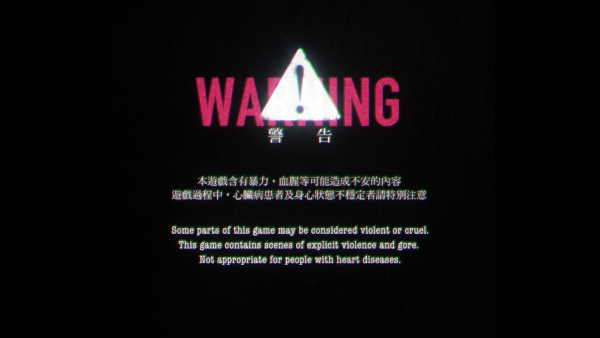 Squidge's Recent Games
Which is quite similar in humour to Fallout '76
without the horrendous reviews, bad limited edition products, or terrible gameplay issues hopefully
The Thunder Plain Games
For those who are new to the pod, we have a section called "Thunder Plain Games" which might be vaguely reminiscent of a certain programme on BBC Radio 4
but for copyright reasons, it is completely different
The usual rules the Thunder Plain Games are:
You have been trapped in the Thunder Plains
You will get help, at some point in the future
Before you are sent there, you can pick a number of video games to take with you

You can have an Internet connected game, if you wish
But you cannot tell anyone that you are stuck in the Thunder Plains or ask for help
Although Squidge and I have taken this challenge before, on several episodes, we all decided to answer this one. Round-robin style.
Asterios' Choices
T-Spins for the win
Because being trapped on a desert island is the only time that someone in their 30s might legitimately have for playing a game with a 72 hours long story.
I attempted to avoid answering a question about whether there's any nudity in Persona 4 by driving, full speed, past the question into more detail about Persona 4. But Squidge and Asertios catch up to me and force an answer out of me
so I "won"?
Jay's Choices
For those who might not know the reference that was made, here's the Snood Wikipedia page.
For reasons which should be obvious
as in "it's the best side scrolling beat 'em up ever"
and the fact that we burnt out our copies of it several times. And Asterios' description of the 90's side scrolling beat 'em ups is on point:
I'm gonna eat turkey legs off the ground and punch enough people until I get my daughter back.
I mean, if they printed that on the box, they wouldn't have been able to make copies fast enough.
Squidge's Choices
Which we've talked about a huge amount on both the pod and our streams. In fact, Squidge has played this on stream a few times
here's a link to one of the times he's played it on stream
and he came up with a reason for it being canon.
Look, if they made a comic book to justify it, it's canon.
Which lead us to a conversation as to the canon status of the Dead or Alive: Xtreme Beach Volleyball games. You know, the game which gave us this commercial:
We only ask the most important questions on this podcast, clearly.
Although there was some minor controversy when Asterios asked:
Is there any reason you didn't got for Time Crisis instead?
And Squidge is then challenged to describe all of the House of the Dead games, one after the other.
External Links of Interest
Music
Links to the music used in the podcast can be found below. Definitely check them out, because they're amazing tracks by awesome musicians.

All copyrighted material contained within this podcast is the property of their respective rights owners. Please see the above list for copyright details pertaining to music used.
Games Covered
We mentioned 61 games in this podcast. In the following order, those games where: