by Jay
- 11 minute read
- 2307 words
this article is part of a series of interviews with developers. Check out this page for more
We first met Craig at EGX, last year
and you can hear me interviewing him, on the expo floor, in this episode of the pod
I was able to try out an early build of Kung Fu Jesus at EGX and really enjoyed playing it. It's a unique twist on the brawler genre, and was itching to catch up with Craig about the game. He's a busy gent is Craig, but he was able to fit a text interview into his schedule
which we're incredibly thankful for
so here it is:
The full title of the game is "Kung Fu Jesus And The Search For Celestial Gold", can you give us an idea of the story of the game without giving too many spoilers?
We decided to change the title to Kung Fu Jesus for simplicity's sake.
The story revolves around Kung Fu Jesus – who works for a local small time drug dealer known as 'The Boss.' Kung Fu Jesus has strange daytime hallucinations and weird dreams – and he's also haunted by a very twisted, dark internal dialogue. In his dreams, he is visited by two beings, The White Wind and Father Sun – who say that he's being held in a place called 'The Void' in the dream world, so his astral life has become a jail sentence.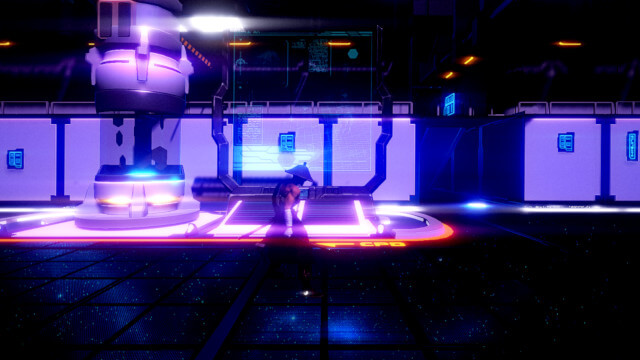 Meanwhile in waking life, 'The Boss' has been recently duped in a drug deal with a cult-like gang called 'The Black Riders.' They haven't paid for their fairly large purchase of weed and are now turning their attention toward wiping out 'The Boss' and all his employees. Set against the backdrop of recent global events and building social unrest, the story ties it all together with three different paths to choose from. That's as much as I'm willing to say 😊
You've been involved in app design and creating music for a long time. What prompted the decision to make a video game?
The last album I released gave me the idea to promote the music with a small game that showcased the music, where each level would play a track of the album.
But as nature took its course, I realised I had a much bigger vision. For years, I'd been thinking that I could make a great story-driven RPG to challenge the amazing games I used to play when I was younger. I don't think you can find a more powerful medium to tell a story than a game with a great narrative, I decided that if I was going to make a game at all, then I was going to do it right and tell the best story with the best gameplay I could. Furthermore, I'm an advocate of including many different types of gameplay to stir things up – so there are lots of different game mechanics to keep things fresh. I know it's been done before (and is not a new concept), but games like that were always my favourites.
here's an embedded player for "Celestial Gold" by Craig
I'm a developer myself, and I've seen a strong (if anecdotal) link between development and music. I know a lot of developers who are also amateur musicians, and I'm a bass player myself. In your experience, does it go the other way? Are there a lot of musicians who dabble in development?
In all honesty, no. Most musicians don't make the crossover to game development because they don't see the need. Plus a lot of musicians think they want the rockstar life – not the game development life – which can be frustrating, to say the least!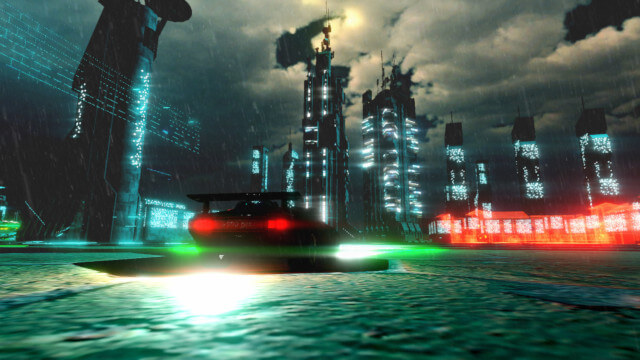 I think debugging games would drive most musicians mad. This project has given me a newfound respect for anybody who takes on the mammoth task of making a game – especially an RPG with lengthy gameplay and a story to tell. Solo developers or small teams have to do more multitasking than in pretty much any other profession, I think. In the case of Kung Fu Jesus, you have to get the character design, animation, music, sound FX, story, gameplay mechanics, save systems, debug it all, game performance tweaked – and on top of that, promote it all. So, my friend, I feel your pain as a developer!
When things work, though, it all seems worthwhile. You've got to do it because you love the project; otherwise it seems like a pointless task.
Having played the demo, I feel like the aesthetic is quite original. It's been described as "Streets of Rage on mescaline" by Rock, Paper, Shotgun. Was the vaporwave/cloud of drugs aesthetic decided on early in development of the game, or something which evolved naturally?
I definitely wanted the game to look like it was a hallucinatory experience. Having delved into the psychedelic world on many occasions as a younger man, I knew how vibrant the world can look – and believe me, it's a lot more colourful than everyday perception!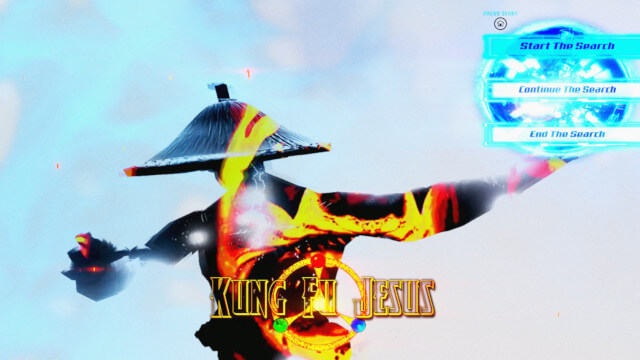 The story merits the aesthetic as well – as Kung Fu Jesus goes interdimensional and also ingests various power plants to meet certain beings on his journey. He has regular encounters with beings like 'Mr Mushroom,' the consciousness of the Fly Agaric Mushroom, his brother 'Psilocybin,' the consciousness of magic mushrooms (psilocybin mushrooms), 'Mescalito,' and the consciousness of Peyote as described in Carlos Castaneda. So the subject matter merits the psychedelic aesthetic.
By the way, I got told off by a friend of mine for our interview at EGX! He said I shouldn't be admitting to my psychedelic past because it makes me look like a 'deadbeat junkie' and would put people off playing the game. Funnily enough, the guy sells weed for a living – haha! I have no qualms about being honest about my past. It taught me a lot – and I thought the interview at EGX went pretty well.
Thanks Craig. It was a pleasure to talk to you in person at EGX, and to get a chance to try out the game
You're working alongside some of the rising stars of video game development on this title, were there particular reasons for picking these particular contributors?
I asked Tony Li to help because he's an absolute wealth of information when it comes to coding. He's taken care of the dialogue system – and any time I have an issue, he handles it in a flash. Without Tony, I don't think I'd be anywhere near as close to finished as I am now. He has his own development studio Pixel Crushers – and I'm pretty sure titles such as Disco Elysium, Jenny LeClue and Crossing Souls wouldn't have seen the light of day without his input. The guy's a genius.
Also, finding Mikel Fick was a stroke of good luck. Another coding genius! He has his own studio Osarion Games and is helping with a lot of features including the fight engine, shield system, projectile system, AI, and a few other things. He's currently helping me with a grappling system as well, which I'm pretty excited about. It's not totally decided whether it'll feature in the game or not, depending on how well we can execute it – but it will definitely add some spice to the game. We've also recently added a combo system and a special move system that can be unlocked as you progress through the game. Mikel has a couple of projects of his own on the go at the moment if anybody wants to check them out here.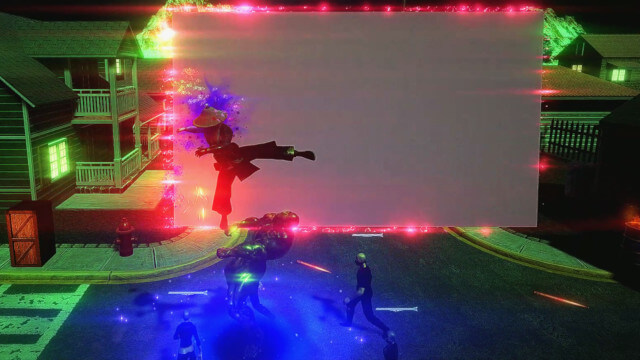 What tips would you give to someone who wants to create a game? Did you just install the tools and get started, or did you have someone to bounce ideas off of at the beginning?
I just went for it to be honest. I wasn't sure what I wanted to do at first – apart from wanting it based around Kung Fu – and I just kept learning and researching as I went to get a deeper understanding of game development.
My advice to anybody wanting to make a game is to not procrastinate about it; just get started and learn as you go. You're going to come across a lot of problems, so just solve them as they come. If you're stuck at something, ask questions. I've found that a lot of developers are very friendly and willing to help – a big difference from the music industry, which is plagued by egocentric, self important a-holes. If you have a problem, there is always a solution; just keep digging for the answer. Where there's a will, there's a way.
Also, don't be banking on any publishers or investors; if you want to finish the project enough, you will. In my case, I've raised a lot of the money on my own through working and piling everything I have into this – but this has always been the case with me. If I have a project I'm passionate about, I want to finish it regardless of whether it's successful or not. I am an artist, after all – and art becomes the most important thing for me. I don't want to compromise my projects; at the end of the day, if I'm happy with it, then I've succeeded. When it comes to story content and the message I want to get across, I'm not deviating from the path that has been set. I'm sure there have been a lot of big corporate games that were compromised due to pressure over the years, I don't have that problem!
We do a thing on the podcast called Thunder Plain Games (named after the Thunder Plains in Final Fantasy X), it's a little like Desert Island Disks, but for video games. If you were trapped there, and rescue was on the way, which three games would you take with you?
That's a hard question …
One of my favourite RPGs of all time was Star Wars: Knights of the Old Republic. The story was great – and it had a big impact on me when I first played it. The twists in the story were amazing, and you had the choice to go to the darkside as well! I think a lot of games are getting too involved in how many choices and outcomes you can make – which dilutes the story. A few choices are good as long as the story arcs support them; if it gets over the top with outcomes, I find that the quality of the storytelling gets way too diluted. So the two choices in this game, lightside or darkside, were really good.
One of my favourite older games was Dark Savior on the Sega Saturn – a big influence on the story mechanics of this game. It was made by the developers of Landstalker on the Mega Drive and had multiple endings that all intertwined depending on your actions at the start of the game. You chase a dangerous alien, Bilan, that breaks out of prison on the very same ship you're in. The game was pretty revolutionary at the time – and the stories were great!
I'm going to be obvious with my last choice and take Final Fantasy VII. I get to take the original and all the episodes of the remake as well! I haven't played it yet, but it all counts as one package as far as I'm concerned because it's the same story! The original was a breakthrough in game storytelling and all the different mini-game mechanics that were there. It was a bit of an emotional experience and still stays with me to this day. It's probably the only RPG of that size that I've played through twice; that's saying a lot coming from me. It's a 60+ hour game, after all. And the remake looks great, so I get to take all the episodes of that as well.
I have to do a few honorable mentions because it's a hard question. Shadow of Memories on PlayStation 2 was awesome! It had a really good multiple-ending, interlocking story. Chrono Trigger and Chrono Cross were also amazing games. Xenogears was a great game, too – and Mass Effect! Oh, and Metal Gear Solid 1-3.
---
The track "No You No Us" by Craig
under his musician name "Kung Fu Jesus"
is both in the game and acts as a trailer for the game. Here it is, as an embedded YouTube player:
---
Here's a note from Novy Unlimited
who were amazing in helping set up this interview for us
about the game:
Craig Snape, Phil O'Shea, Tony Li (Crossing Souls, Jenny LeClue, Disco Elysium), Mikel Fick of Osarion Games, and Thorben Hegemen of Codeer Studios are the folks behind Kung Fu Jesus with Craig at the helm. Kung Fu Jesus will be available on Steam, PlayStation 4, and Xbox One later this year, so keep an eye open for it.
---
Our thanks for arranging this interview go out to Luis at Novy Unlimited, and to Craig for taking the time to answer our questions. I really like the look and feel of this game, and am looking forward to trying it out. Make sure that you check out the Steam page for the game, and let us know what you think of it.
External Links of Interest
Games Covered
We mentioned 18 games in this post. In the following order, those games where: