Featured Image
The main image for this post was created by DeviantArt user demonsheyd500025, the original version is available here
Players
If you wish to support the Waffling Taylors, and the other shows in the network, you can over at Ko-fi.com/jayandjaymedia. However, supporting us is completely voluntary and not required at all.
Another way to support us is to shout out about us on social media or give us a rating on your podcatcher service of choice. The more people who listen to the show, the more shows we can do.
Content Warning
Since we talk about survival horror games in this episode, I'd like to ask you all to listen responsibly.
Also, consider this a spoiler warning for every game we discuss in this episode
check the list at the bottom of this page for the games we discuss
Competition Time
What? No show notes?
The show notes are literally the next section, but we wanted to let you all know about a silly competition we added to this episode. Both Squidge and I quote something towards the end of the episode
around the 44 minute mark
if you can figure out what we quoted - without having to use a search engine - then let us know in the comments, on Twitter, or on Facebook and you could win.
One thing to note is that the competition
such that it is
is only valid until episode 72 comes out - which is due out on Friday March 20th, 2020. After that time, we'll still accept submissions, but all you'll win is out respect
which is still pretty valuable
Show Notes
Squidge and I start this episode by going on a little journey into the world of survival horror radio drama
remember to come back next time for the shocking conclusion
It's another episode of just Squidge and myself this episode, and we wanted to talk about our favourite genres of video games: Survival Horror. Before we talk about Survival Horror, it's a good idea to get a baseline for what it actually is. So here is the definition of Survival Horror, as per the Wikipedia article on it:
Survival horror refers to a subgenre of action-adventure video games. The player character is vulnerable and under-armed, which puts emphasis on puzzle-solving and evasion, rather than the player taking an offensive strategy. Games commonly challenge the player to manage their inventory and ration scarce resources such as ammunition. Another major theme throughout the genre is that of isolation. Typically, these games contain relatively few non-player characters and, as a result, frequently tell much of their story second-hand through the usage of journals, texts, or audio logs.
While many action games feature lone protagonists versus swarms of enemies in a suspenseful environment, survival horror games are distinct from otherwise horror-themed action games. They tend to de-emphasize combat in favor of challenges such as hiding or running from enemies and solving puzzles. Still, it is not unusual for survival horror games to draw upon elements from first-person shooters, action-adventure games, or even role-playing games. According to IGN, 'Survival horror is different from typical game genres in that it is not defined strictly by specific mechanics, but subject matter, tone, pacing, and design philosophy.'
Source: Survival horror on Wikipedia
First Round
We jump straight into it with a discussion on the Resident Evil 2 remake. It seems that everyone agrees that the remake is a return to form for Capcom and the series as a whole. The modern Resident Evil games haven't really been survival horror games so much as run-and-gun style hold-the-fire-button-down-until-the-enemy-has-stopped-twitching games.
Can we also talk about how life-like the remake is?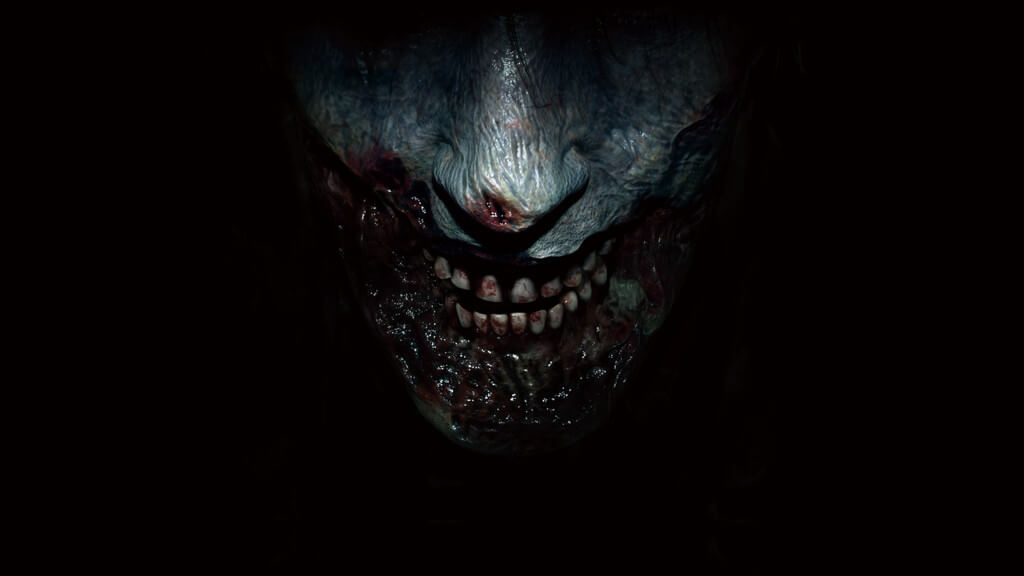 And let's not forget about when Squidge told us about the panic attack he had when Mr X first appeared in the remake
here's a link, in case you forgot
Although you have to remember that he had avoided absolutely everything about this game, right up until the midnight release of it.
Squidge then gives us some top tips for which difficulty to choose when starting out.
Unless you're Chief, of course. He's a nut bag
Another thing to remember is that the remakes for both Resident Evil 2 and 3 both use the engine created for Resident Evil 7. Also, let's not forget that Capcom have renewed the copyright on Dino Crisis. Which would be a terrifying game, with the new engine, I mean imagine this but it incredible detail: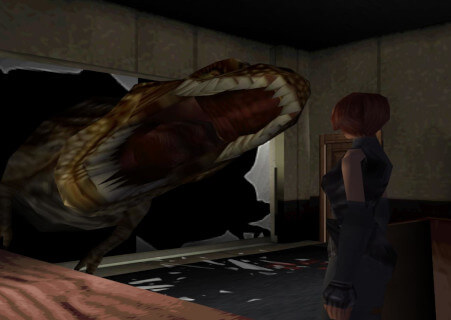 Squidge then surprises us all by referencing a specific mode of Resident Evil 3: specifically the mercenaries mode. By all accounts, the mercenaries mode is more survival horror than the main game
maybe this was the beginning of the move towards more action than horror
as Squidge said, it's like comparing the George A. Romero films to the Hollywood remakes of them: the remakes are all style and no substance.
And I suddenly get all philosophical about the name "Resident Evil" before talking about the original print ad for Resident Evil 0
I say
which is what this is: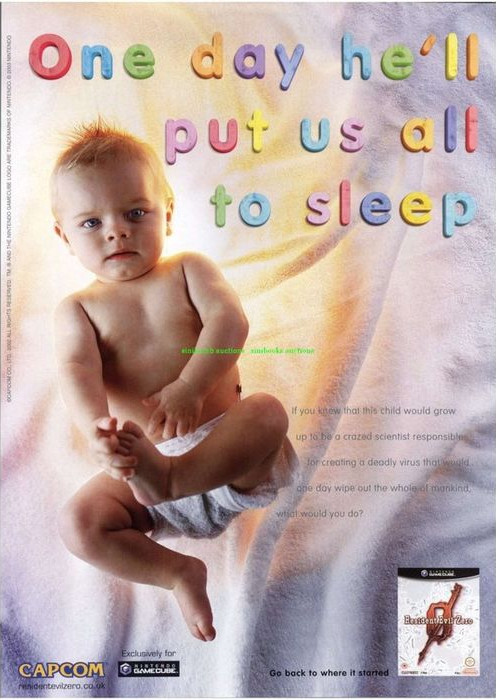 If you can't click to zoom, the almost invisible copy reads:
if you know that this child would grow
up to be a crazed scientist responsible
for creating a deadly virus that would
one day wipe out the whole of humankind,
what would you do?
Which, we can all agree, is extremely dark and unsettling.
Second Round
My second-round pick was Alien: Isolation. A game which takes the idea of the original Alien movie with all of its suspense and atmosphere, and dials it up to 11.
So good is it, in fact, that I'm pretty sure that it's a perfect example of what a Survival Horror title should be.
even though it's just a Pac-Man clone
Right down to turning on "microphone" mode, which would use your mic - if you had one - as an input device, and any noises around you could alert the Xenomorph to your presence.
You're literally on the edge of your seat, and you lean in to try and hear more
Whereas Squidge picks something a little old-school with Alone in The Dark: The New Nightmare. I've never played any of the Alone in The Dark series, but from Squidge's description, I might have to give it a go. It sounds like a keen mixture between Resident Evil 2 and the first Silent Hill game.
Do you have to have fixed camera angles and tank controls to make a console-based survival horror?
Third Round
For my third-round pick, I went a little off-piste for me. I'm usually less of a persistent threat kind of a gamer, and Dino Crisis is just that. From the very beginning of the game right through to the end, there's a near-constant threat of being tracked down and eaten by one of the many Utah Raptors.
It's a completely different game from the sequel
just like with Streets of Rage, we don't talk about the third entry in series
which is more of a run-and-gun action title, where you are literally rewarded for mowing down as many dinos as possible.
Either way, Squidge interrupts with his third-round pick: Dead Space. A game with so much depth to it that even the chapter names give you clues in the form of an Acrostic poem
not just fun, we can be educational too
New Arrivals
Intensive Care
Course Correction
Obliteration Imminent
Lethal Devotion
Environmental Hazard
Into the Void
Search and Rescue
Dead on Arrival
End of Days
Alternate Solutions
Dead Space
Or
Nicole Is Dead
spoilers, btw
Not bad for a deeply atmospheric horror game, eh? Absolutely everything in this game can kill you.
---
I then talk about a possible reason as to why survival horror games have slowly become action-horror games: namely auto-saves and the easing of puzzles.
We then tease what we'll be talking about in part two, which you'll have to come back for next time.
Our Top Recommended Survival Horror Games
| Jay | Squidge |
| --- | --- |
| Resident Evil 2 | Resident Evil 3* |
| Alien: Isolation | Alone in The Dark: The New Nightmare |
| Dino Crisis | Dead Space |
* = specifically mercenaries mode.
External Links of Interest
Music
Links to the music used in the podcast can be found below. Definitely check them out, because they're amazing tracks by awesome musicians.

All copyrighted material contained within this podcast is the property of their respective rights owners. Please see the above list for copyright details pertaining to music used.
Games Covered
We mentioned 20 games in this podcast. In the following order, those games where: