Featured Image
First of all, we'd like to thank the amazing yurricanes for working with us to create the featured image for this episode. I think you'll agree that it's an amazing piece of art, and you should definitely check out their work.
Players
If you wish to support the Waffling Taylors, and the other shows in the network, you can over at Ko-fi.com/jayandjaymedia. However, supporting us is completely voluntary and not required at all.
Another way to support us is to shout out about us on social media or give us a rating on your podcatcher service of choice. The more people who listen to the show, the more shows we can do.
Content Warning
There are a few swears in this episode (and a few potential swears), but we've bleeped them all out. please listen responsibly.
Show Notes
We start with a kick-ass into, created by Squidge for Unaffiliated JZ and go straight into a conversation about Rogue-likes. Apparently, Squidge doesn't like them. Off the back of that, Squidge makes a super predictable joke which leads to us discussing everyone's favourite "I'm trapped on a planet and need to get off of it" simulator: Factorio.
I then burst in with a short list of games that I have on my Switch
you'll remember that we talked about me buying one, back in Nindo Recon
starting with Resident Evil Revs 2 and Dead Cells
or as Squidge calls it 'Jay hates doors simulator'
What's great about Dead Cells is that you can pick it up and play for 2-3 minutes at a time. JZ then tells us about a time when he played Into The Breach for 6 hours, whilst on a flight, and that he really couldn't put it down.
We then go back to JZ's recent games, but first a reminder of the games he mentioned last time:
Borderlands 3
Two Point Hospital
It turns out that both JZ and Squidge have plaid Nier: Automata - even though Squidge only played the first 10 minutes or so. Squidge's reason for not playing it for very long is a bit of a complex one, whereas JZ says that it's those reasons why he loves it
let us know what you think of it in the comments, below
even though he has to play it away from his wife for fear of wifely revenge. Squidge's description of the game seems a little on the nose:
and all you're doing is killing things while staring at an ass
Then Squidge drops the bomb that there are 15 endings for the game, and some of them are only achievable after "New Game"ing after getting specific endings. Also, you can finish the game in 30 minutes; and I link that to the Friday the 13th game for the NES, which can be completed in a handful of minutes.
JZ keeps us on track
because he's ace like that
by bringing up Five Nights At Freddies (or FNAF as Squidge calls it), and Squidge talks about how he loves to watch people play it. JZ talks about how the merch for FNAF seems to be everywhere, and Squidge reminds him that the same can be said for Fortnite. I then attempt to get all philosophical by pointing out that the success of FNAF and Fortnite are both down to YouTube, and the content creators there
as if no one knew about that
I then come up with a segment idea based on something that Squidge said about FNAF:
Put killer robots into a video game, and sell it to me
But Squidge was having none of it, because he wanted to talk us through his new segments. I end up twisting his arm and get him to take part, and both Squidge and JZ come up with a couple of stellar ideas. Then Squidge comes up with an even better idea:
What about: flipping a game on it's head, so you play as the antagonist?
which brings us to a conversation about DOOM Eternal, how it was delayed a few days before EGX 2019, and how everyone who pre-orders DOOM Eternal will apparently get Doom 64 for free.
And before we talk about Squidge has been playing, JZ brings up Slay The Spire and I mention that the trailer didn't really draw me in when I checked it out.
---
It's then time to talk about Squidge's recent games, but I interrupt him with talk of Dead Cells and my apparent hatred for doors. But then we finally get around to what he's been playing, and what a list it is. He's been having fun with The Outer Worlds, decimating the local wildlife, and re-rolling his character.
Naturally, our conversation about Steam and the Epic store swerves towards being about Shenmue 3, and how I nearly lost my mind at the specs required for the DEMO of the PC game - it requires 100GB of hard drive space; and Squidge mentions that he doesn't like the way that the new dialogue sounds:
it sounds like it's been phoned in
Squidge then drops the bomb that The Outer Worlds reminds him a lot of Firefly / Serenity
shiny
and he sells JZ on it with the promise of aliens. And Squidge tells us of when Ik goaded him into attacking something which didn't really seem to care that it was under attack.
We then discuss whether Squidge should run around in Dead Rising 4 with a stupid costume on during his first live stream - and JZs suggestion is the sanest of all the suggestions.
Due to the recent changes at Twitter, we are unable to embed tweets at this time. We apologise for the inconvenience.
Also "Rudolph The Red Nosed Devil" is a fantastic name for a metal album which only contains covers of Christmas songs… kind of like an updated version of A Twisted Christmas by Twisted Sister
also, don't look up 'Devil's Antlers' - life advice
---
It's then finally time to talk about the games that I've been playing. But before that, Boot to the Head:
I bought Yoshi's Crafted World moments after gushing about it in Nindo Recon
that was the episode we recorded where Squidge recommended some Switch games to me
I also bought Mutant Football League, which is a modern console remake of the old Mega Drive/Genesis with the same name. It's a lot of fun - as long as you're winning, as almost any other sports game. I then give the background for the creation of the game Croc whilst describing why I bought Croc's World - which is a Switch version of the mobile game of the same name. Then Squidge reminds me of this:
Due to the recent changes at Twitter, we are unable to embed tweets at this time. We apologise for the inconvenience.
See if you can tell why the microphone didn't work, and let us know in the comments.
Honk
We then discuss the wonderfully passive aggressive Untitled Goose Game. Seriously, this was the game that I had been waiting my whole life for. It's so amazingly made, the goose can be as passive aggressive as you want, and there is no lose condition. What's not to love?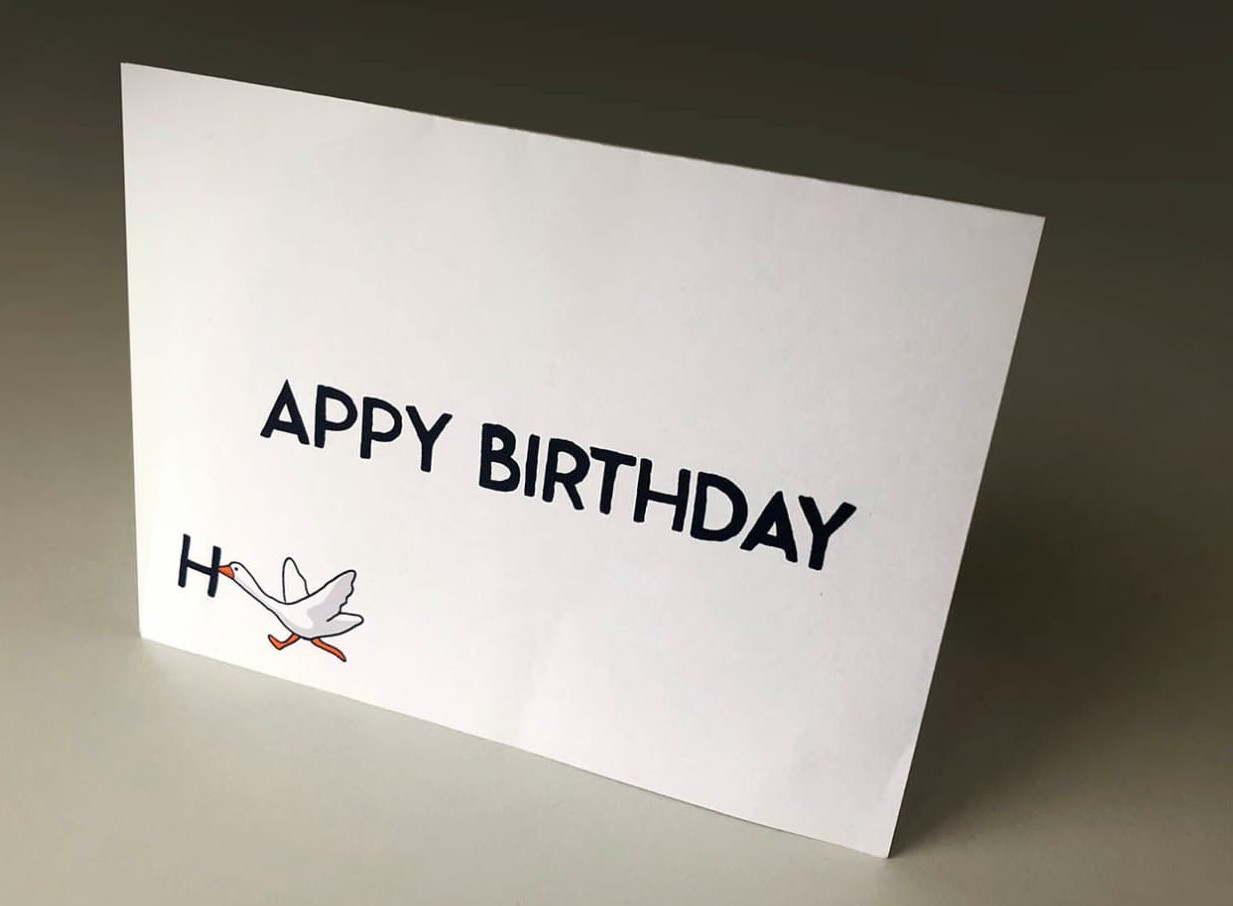 I even mention that we used an Untitled Goose Game meme in a presentation at my current client.
Also, this is something which happened not long after the game came out:
And finally, we tease a new segment… but do we ever get round to doing it?
Unaffiliated JZs Games
Borderlands 3
Two Point Hospital
Nier: Automata
Slay The Spire
Squidge's Games
Dead Rising 4
unknown Pokémon hack
The Outer Worlds
Jay's Games
Yoshi's Crafted World
Mutant Football League
Croc's World
Untitled Goose Game
External Links of Interest
Music
Links to the music used in the podcast can be found below. Definitely check them out, because they're amazing tracks by awesome musicians.

All copyrighted material contained within this podcast is the property of their respective rights owners. Please see the above list for copyright details pertaining to music used.
Games Covered
We mentioned 34 games in this podcast. In the following order, those games where: