Featured Image
The header image for this post was created by Pixabay user Duszkolandia, the original version is available here
Players
If you wish to support the Waffling Taylors, and the other shows in the network, you can over at Ko-fi.com/jayandjaymedia. However, supporting us is completely voluntary and not required at all.
Another way to support us is to shout out about us on social media or give us a rating on your podcatcher service of choice. The more people who listen to the show, the more shows we can do.
Show Notes
Unaffiliated Coke returns! Also, so does Squidgey!
In his first podcast appearance since his recent super secret project, Squidgey gives us the run down of what he's been playing recently, drops some knowledge on the Resident Evil series, discusses Tekken 2, and we touch on the recent (unfortunate) news of UK independent retailer Grainger Games closing up shop (literally).
We have a long talk about the Resident Evil series and which are our favourites. This is because the original Resident Evil turned 22 and it's direct sequel turned 20 a few days before recording the episode.
I also come up with a few possible indy games:
or just a Zombie Tamagochi game. Get on it, indie game developers!
A Japanese Dating Sim based on Friends
We even bring up the topic of video game movie adaptations, albiet briefly. Brief enough, in fact, to mention that if you remove everything which links them to the games, both the Super Mario Bros. and first Resident Evil movies would be pretty fun movies in their own genre. The still wouldn't be very good, but they'd be a lot more fun.
Squidgey hits us with a theory about why Chris Redfield is unable to distinquish between two different Amerasian women in Resident Evil 6, and it's not because Chris is racist.
I also teach you how to reference movies and video games like the folks over at IMBD.
Squidgey tells us about a time when someone gave a Guitar Hero controller a bad review because it was incompatible with a specific game, and I remind everyone that we used to play Virtua Fighter on the Sega Saturn with an "Arcade Racer Joystick"
which is the official steering wheel controller for the Saturn
We even go into what's missing from modern Survival Horror games: fixed and tracked camera angles. They were originally used in the first Alone in the Dark and Resident Evil games because of technical limitations, but they had the side effect of increasing the survival horror-osity.
is that a word?
of the games.
We lightly cover the (then) news of UK games retailer Grainger Games closing up shop. It was a sad day for the folks who worked there, at the very least. We also touched on the prices of video games in the UK and how they can vary extremely wildly.
Here is an illustration of Sega Wrist, which we talked about when discussion Tekken and Soul Edge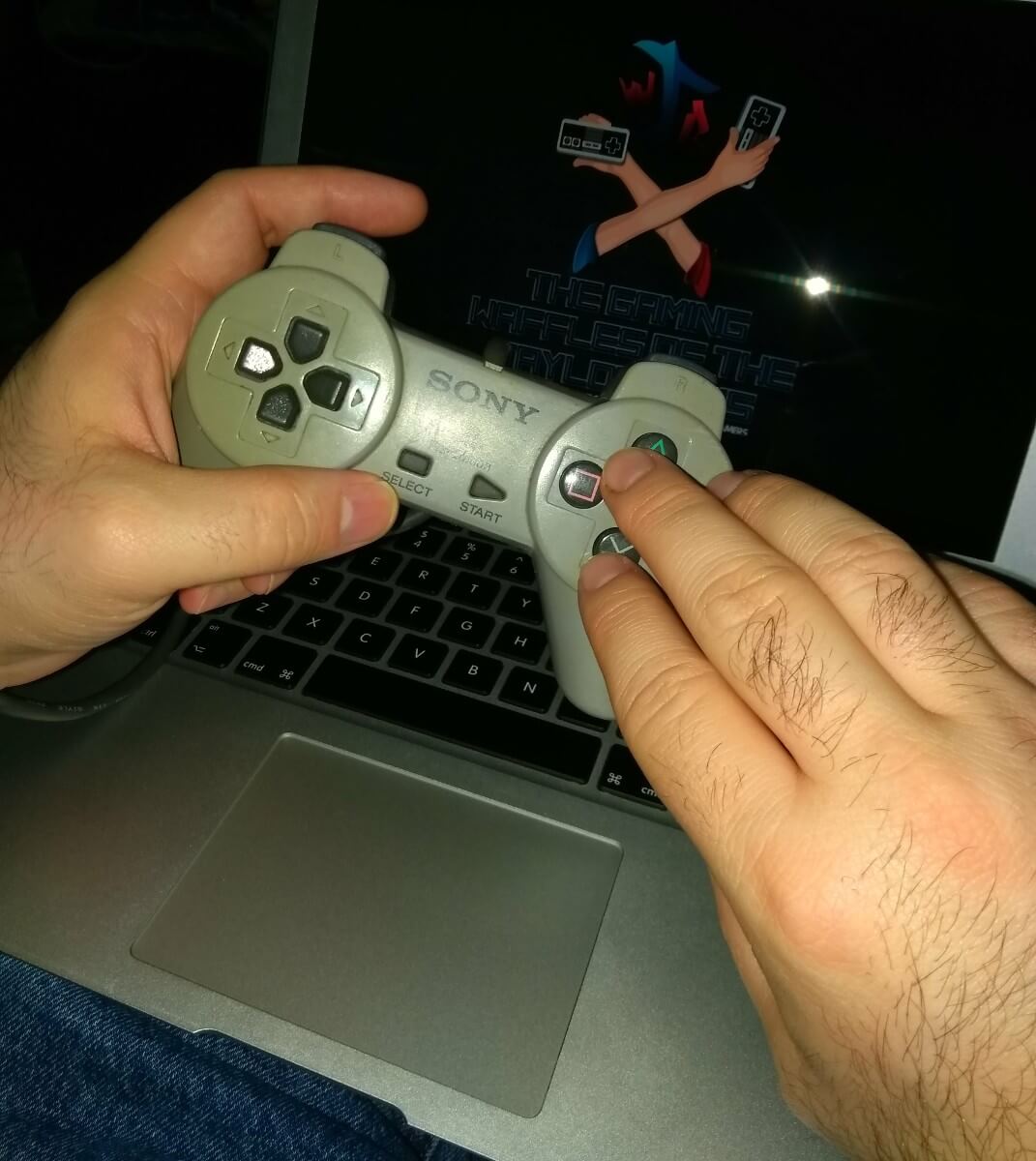 And here are some photos of Squidgey's Resident Evil Controller:
I touch on my recent visit to the NVA in Nottingham, and the games that I played whilst I was there.
Squidey's Recent Games
Pokémon Ultra Sun (Nintendo 3DS)
Dynasty Warriors 9 (Xbox One)
Diablo III (Xbox One)
GaProgMan's Recent Games
Persona 4 (PS2)
E.V.O The Search For Eden (SNES)
power Blade (NES)
Links of Interest
External Links of Interest
It includes an embedded YouTube video of 紫のゆかり、ふたたび (Murusaki no Yukari, Futatabi), which is the song title that I couldn't remember the name of
This is the song that I call "Raised on the Streets, the Sesame Streets"
Shots from the USA intro were used (from the "CAST" screen, until the end of the "Jill Valentine" section)
Music
Links to the music used in the podcast can be found below. Definitely check them out, because they're amazing tracks by awesome musicians.

All copyrighted material contained within this podcast is the property of their respective rights owners. Please see the above list for copyright details pertaining to music used.
Games Covered
We mentioned 41 games in this podcast. In the following order, those games where: